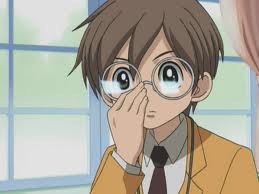 Personality
He's shy and has no confidence in himself. As shown in Chocolat, Desirious Thoughts of Chocolate, he may have a competitive side because he participates in the boys' foolish competitions.
Appearance
He has light brown hair with brown-grey eyes. He wears circle-rimed glasses, though in the beginning song, he is shown to only have glass and nothing on the sides. He is quite short.
Trivia:
☀Nishitani is first presented in Unscheduled Newspaper Club Interview.
☀He is seen in later episodes but has almost no dialogue.
Ad blocker interference detected!
Wikia is a free-to-use site that makes money from advertising. We have a modified experience for viewers using ad blockers

Wikia is not accessible if you've made further modifications. Remove the custom ad blocker rule(s) and the page will load as expected.