Yurika is the leader of the fanclub, Members. She loves Pierre and becomes friends with Chocolat.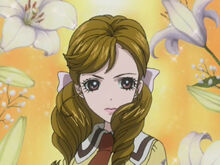 Appearance
Edit
Yurika is a very beautiful girl. She has brown hair that she ties into two pigtails with white bows, and brown eyes. Despite that, she is rarely shown smiling.
Personality
Edit
At first, Yurika comes off as a cold, aloof girl who only cares about Pierre. However, it is shown that she has a sense of humor and is able to get along with others. Because of her feelings for Pierre, she usually has a noir heart, but her feelings of jealousy do not get in the way of friendships she makes, an example of that would be discovering Chocolat and Pierre in the locker room alone, and still remaining friends with Chocolat despite her jealousy.
Relationship
Edit
Ad blocker interference detected!
Wikia is a free-to-use site that makes money from advertising. We have a modified experience for viewers using ad blockers

Wikia is not accessible if you've made further modifications. Remove the custom ad blocker rule(s) and the page will load as expected.